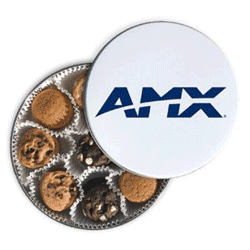 AMX Company Store
AMX's source for logo'd caps, shirts, mugs and other promotional products.

The AMX family now has the convenience of ordering logo'd caps, shirts, mugs and many other promotional products for client gifts and promotional campaigns!

Click on the categories shown on the left side bar to view the items. Scroll down to see all of the pictures and descriptions in this category. Knock-Out Specialties, Inc. is providing these products and services. Orders will ship direct to you or your specified location. You may also order by completing the order information, printing out and faxing your order to 214.440.1100, or by calling 214.440.1200.

For questions or customer service contact:

Knock-Out Specialties, Inc.
Voice: 214.440.1200 Ask for Jackie Hawkins or John Bottone
Fax: 214.440.1100
Email: info@knockoutspecialties.com

NOTE: International orders require 45 days advanced notice. This time period will ensure that artwork proofs are prepared/approved; processing lead times are met with the manufacturer; and orders are received through customs by the date required by the customer.

Domestic orders can be expected to be recieved in 1-2 weeks unless otherwise noted on the product page.